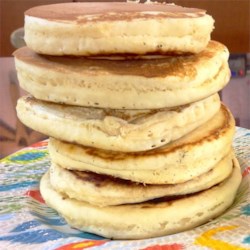 THESE PANCAKES ARE SOOOOO GOOOOOD!!!!!!!
I found this recipe in a recipe binder from my grandmother and absolutely fell in love with it, its one of my favorite make ahead meals.
I like to make the batter at night and cook it up in the morning.
Not that it takes very long to make the batter, its just one less thing I have to do and cuts the mess considerably (especially since Mason helps me).
I made some adjustments for those of you trying to save a little bit of money.
:) HAPPY COOKING!!!!!!!!!
Ingredients:
- 3 cups flour
- 2 Tbs. + 1 tsp baking powder
- 1 1/2 tsp. salt
- 2 tsp. vanilla extract
- 2 Tbs sugar
- 2 1/2 cups of milk (you can use half water and half milk, it will still turn out)
- 2 eggs
- 10 Tbs butter, melted (1 stick + 2 Tbs.) (To make this recipe a little cheaper you could use half oil and half butter)
Directions:
In a large bowl, sift together the flour, baking powder, salt and sugar. Make a well in the center and pour in the milk, egg and melted butter; mix until smooth.

Heat a lightly oiled griddle or frying pan over medium high heat. Pour or scoop the batter onto the griddle, using approximately 1/4 cup for each pancake. Brown on both sides and serve hot.

Makes about 32 pancakes.