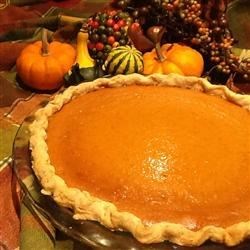 As you heard about in my post about
pumpkin pie seeds
, there was a really good deal on pumpkins and I bought four. So everybody knows, if you buy too many pumpkins make pie...yeah...that's how the saying goes. Anyways, I have tried many pumpkin pie recipes in the past and they were all just okay. But I wanted a recipe that would really knock your socks off, you know? So I asked my mom, and she brought out her recipe binder, and she flipped through to pumpkin pie. She says it was here favorite out of any pie she had ever eaten! So I made it. Shocker, right? Anyways, without further-ado, here's the recipe:
Pumpkin Pie
Ingredients:
3/4

cup granulated sugar
1

teaspoon ground cinnamon
1/2

teaspoon salt
1/2

teaspoon ground ginger
1/4

teaspoon ground cloves
2

large eggs
1

can

(15 oz.)
Pumpkin Puree (I used puree I had in the freezer from last years jack'o'lantern)
1

can

(12 fl. oz.)
Evaporated Milk (I made some from dry milk)
1

unbaked 9-inch (4-cup volume) deep-dish pie shell
(find pie crust recipe
here.
)
Whipped cream (optional)
Directions:
Mix sugar, cinnamon, salt, ginger and cloves in small bowl. Beat eggs in large bowl. Stir in pumpkin and sugar-spice mixture. Gradually stir in evaporated milk.
Pour batter into your pie shell.
Bake in preheated 425° F oven for 15 minutes. Reduce temperature to 350° F; bake for 40 to 50 minutes or until knife inserted near center comes out clean. Cool on wire rack for 2 hours. Serve immediately or refrigerate. Top with whipped cream before serving.