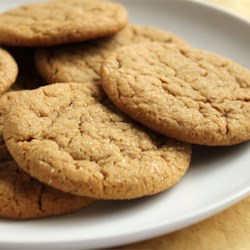 Sometimes you have a free day to spend with the kids rolling out cookie dough and taking your sweet time. And other days you dad is having company and you need to whip somethin' up fast because they are going to be here in 45 minute. Yeah. Today was one of those days. Here's what I ended up making:
Soft Gingerbread Cookies (That Stay Soft!)
Ingredients:
2 1/4 cups AP flour (you can use WW for half the flour)
2 tsp. ground ginger
1 tsp baking soda
3/4 tsp ground cinnamon
1/2 tsp. ground cloves
1/4 tsp. salt
3/4 cup butter, softened
1 cup sugar
1 egg
1 Tbs. water
1/4 cup molasses
2 Tbs. white sugar
Directions:
Preheat oven to 350 degrees F (175 degrees C). Sift together the flour, ginger, baking soda, cinnamon, cloves, and salt. Set aside.
I
n a large bowl, cream together the margarine and 1 cup sugar until light and fluffy. Beat in the egg, then stir in the water and molasses. Gradually stir the sifted ingredients into the molasses mixture. Shape dough into walnut sized balls, and roll them in the remaining 2 tablespoons of sugar. Place the cookies 2 inches apart onto an ungreased cookie sheet, and flatten slightly.
Bake for 8 to 10 minutes in the preheated oven. Allow cookies to cool on baking sheet for 5 minutes before removing to a wire rack to cool completely. Store in an airtight container.(If they make it that far).