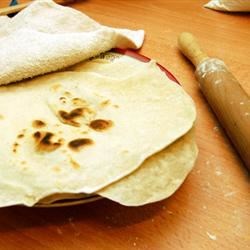 These are often called "crack tortillas" in my house.....they're just that good. I had been experimenting with tortillas for a while and then one day when my aunt Jenifer was visiting from GA, she gave me the recipe she has been using. Which I am very thankful for! The tortillas turned out perfect and soft. My sister
Margaret Anne
says they taste like coconut, but my parents say they taste buttery. To me they just taste like lightly salted goodness. We love to fill them with
crockpot refried beans
and cheese for an easy and quick dinner. I just start the refried beans in the morning around eleven, and the tortillas take five minutes. And then everybody rolls and cooks their own tortillas (no really, they like it). Its a great way to get everyone in the kitchen, learning that cooking isn't all that scary.
Aunt Jenifer's Flour Tortillas
Makes 30
Ingredients:
6 cups AP flour (up to 2 cups whole wheat)
1 Tbs. salt
1 Tbs. baking powder
2/3 cup coconut oil
1 1/2 cups hot water
Directions:
In a large bowl, whisk together the flour, salt, and baking powder.
(If its cold in your house the coconut oil is likely solidified, so just melt it in whatever pan your using to cook your tortillas.)
Use your fingers to incorporate the coconut oil.
Make a well in the flour mixture and pour in the hot water.
combine the flour and water until you have a very soft dough. If its not very soft you will need to knead in a little more water until it is. (which is a icky process....I'm not gonna lie....)
If you want you can let the dough sit for anywhere from 5-15 minutes. But I'm not that patient. So I just start cutting and rolling.
To divide the dough, you can just guess or do the smart thing and cut it by forming it into a square and dividing it into a 5x6 grid.
Roll out each ball thin, to your desired shape. (Some like rectangles, some like circles.)
Cook on a pre-heated pan over medium-high heat for 30 seconds on each side. This is all it needs, if you cook it for much more your tortillas will be hard and less floppy.....)
To keep them warm while the others are cooking, wrap them in a kitchen towel.
Lets Chat:
Has anyone shared a flipping awesome recipe with you that you'd like to share? (Maybe even to go on the site?)
Do you have any tips for rolling tortillas?
Do you like anything interesting in your tortillas?