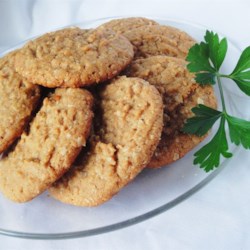 Have you ever made cookies, and then ate so much of the dough you couldn't bear to eat the final product? Yeah....that always happens to me...every time.....
My brothers and sisters were begging me to make cookies one day, so I flipped through my cookbooks for the perfect recipe that would satisfy the picky eaters. I started to make a recipe that I got from Betty Crocker. But just before I added the flour, I remembered the comment that someone left on my post: "
How to create a Muffin
." Neriad13 was describing how one could modify recipes and make them their own. So, keeping this in mind I added half the flour and then replaced the other half with oats. At first I was nervous the picky ones wouldn't eat it because of the oats.....I decided it was a risk I was willing to take.
After it had refrigerated for the two painful hours (which I had spent exercising to make up for the massive amount of cookie dough I had previously consumed) I had to roll the dough and place them on the cookie sheet. The little ones helped me with this step (they offered!!! Honest...). Mason then asked me what in the world I did to the poor cookie dough. I calmly responded (though I wanted to yell defensively) that I was just trying something and I wanted to make them healthier so he could have two for the price of one. As you probably assumed, he was completely cool with that idea. And the others were wide eyed, nodding, smiling, and rolling faster.
While the cookies were in the oven the whole house smelled glorious to them (sickening to me, again because of the massive amounts of dough I had consumed). But then when they came out the kids were fighting over who got to eat the first cookie! they were a huge hit (oatmeal and all!!!).
Peanut Butter Oatmeal Cookies
Ingredients:
1/2 cup granulated sugar
1/2 cup packed brown sugar
1/2 cup peanut butter
1/2 cup softened butter
1 egg
3/4 cup flour (WW or AP)
3/4 cup old fashioned oats (not the quick one minute oats)
3/4 teaspoon baking soda
1/2 teaspoon baking powder
1/4 teaspoon salt
Directions:
Mix sugars, peanut butter, shortening, butter and egg in large bowl. Stir in remaining ingredients. Cover and refrigerate about 2 hours or until firm.
Heat oven to 375ºF
Shape dough into 1 1/4-inch balls. (And try not to eat too much dough!!!) Place about 3 inches apart on ungreased cookie sheet. Flatten in crisscross pattern with fork dipped into sugar.
Bake 9 to 10 minutes or until light golden brown. Cool 5 minutes; remove from cookie sheet. Cool on wire rack.
Have you tweaked a recipe that turned out to be absolutely fabulous??? I would love to know about it!!! Just drop a comment below!!!